It is used at iron foundry, mining and macadam place of soil and stone, and by attaching in the conveyor line in stead of conventional roller, and realize to reduce the impact of dropping objects, keep long life cycle of conveyor belts and protect below stand (counter mount). To adopt this system, we take advantage more than old impact carrier rollers such as mitigation of a maintenance and environmental beautification are offered.

Adopt the ultra high-molecular weight polyethylene


The layer of ultra high-molecular weight polyethylene, which excels in smooth surface due to extremely low friction coefficient, brings life extension of the belt.

Adopt an impact absorption special rubber layer


By absorbing impact strength and performs shock relief of conveyor belt and protects under the stand.

It is available to fix with ease and tight


It is easy method of installation which tighten aluminum rail by the simultaneous molding with T-type bolt. It is easy to fit the suitable position so that tighten and reliable installation is realized.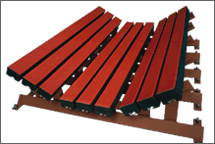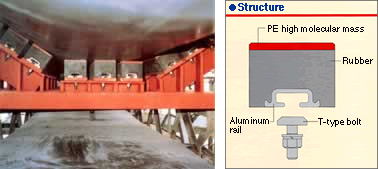 H75mm×W80mm×L1500mm
H75mm×W100mm×L1500mm