We have been manufacturing various kinds of rubber made textile machinery accessories and spare parts for more than 60 years and getting very good reputation on our quality of products among world-wide regular customers.


A crack cannot easy to generate.
It is superior to oil resistance and storing to oily medicine swelling.
It is superior to wear resistance so that the life cycle is long.
It is superior to flexibility so that keeps and improves the string properties.
It is superior to electrostatic tightness so that it brings the results of little going up of the wind.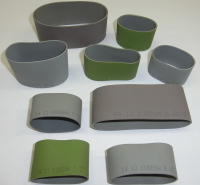 Material
Colour
Applications
Features
TA58
Gray
Cotton 100%
Cotton/Synthetic blends
Synthetic 100%
Most popular type
Suitable for wide-range of yarn
7583
Green
Synthetic blends
Synthetic 100%
Especially suitable for Polyester
■Long Staple

Material
Colour
Applications
Features
7545
Brown
Wool 100%
Wool/Synthetic blends
Synthetic 100%
Excellent Anti-abrasion
Super oil-resistance
Suitable for wide-range of yarn