DP302 is one of the broadest and highest-functional diaphragm sheet in the world.
It's possible to use stably over a long duration because of excellent durability against EVA gas which causes hardening and break of diaphragm sheet.

Item Number DP302
Material / Color Synthetic rubber / Black
Dimension
| | | |
| --- | --- | --- |
| Thickness (mm) | WidthMain Functions (mm) | Length (mm) |
| 3 | < 3,000 | < 6,000 |
* We can produce other dimensions according to your request.
 Please contact us about details.

Physical properties
Hardness
Tensile
strength
Elongation
100%
Tensile stress
Tear strength
Unit
Type A
MPa
%
MPa
N/mm
Measured
value
62
12.1
550
1.4
30
* Above data are measured values and not guaranteed specifications.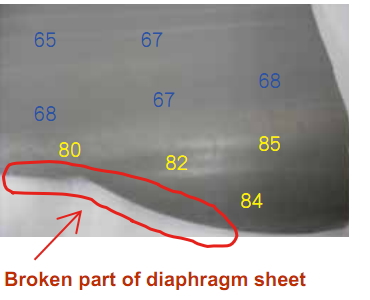 PV diaphragm module hardens its surface by the influence of release gas from sealing medium (EVA) after repetitive use and results in crack or break after losing elasticity.
As showing in left figure, surface hardness is becoming 80 or more (displayed in yellow) around the broken part by exposing release gas.
If we bend this part, it cracks easily. But it does not crack at the hardness of less than 80 (displayed in dark blue).
We can say that 80 of surface hardness will become a criterion of lifetime of diaphragm sheet.
◼ Evaluation test of EVA resistance.
We heat a test sample diaphragm sheet after absorbing gas including high concentration of ingredient which hardens it.
We repeat this process and measures surface hardness after a number of processing.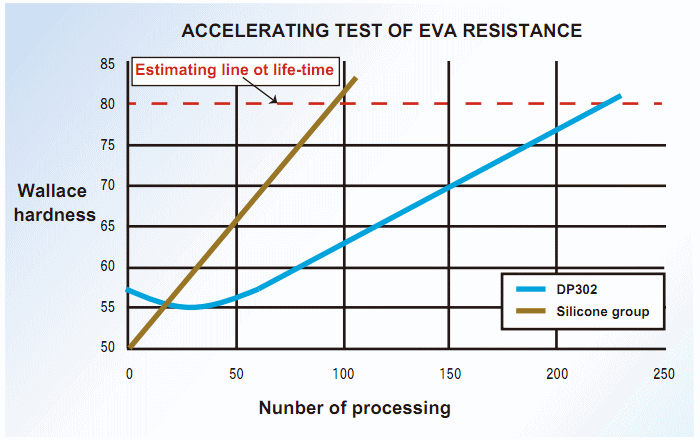 Surface condition after 90 times of processing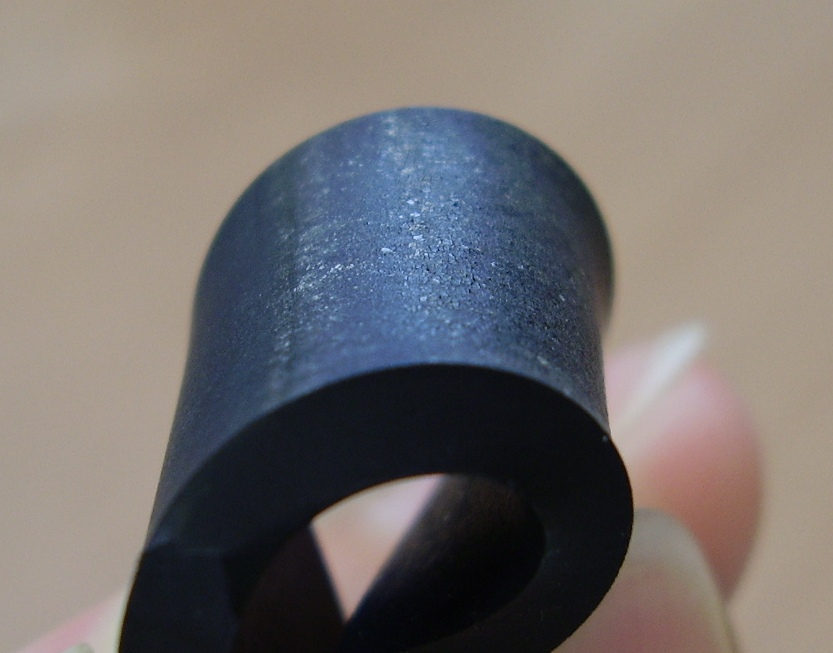 DP302 → Good surface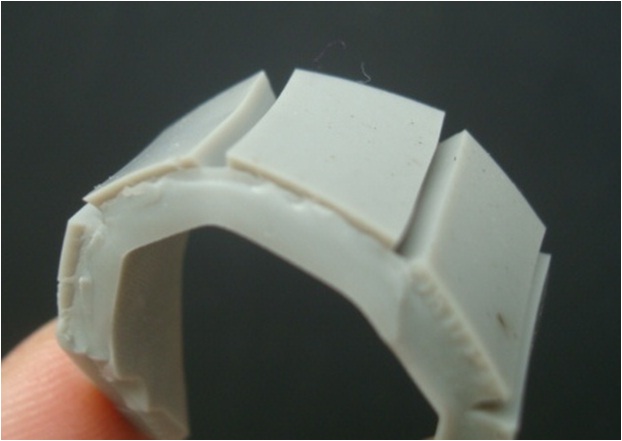 Silicone rubber → Broken surface
From the upper test result, it takes 2.3 times later than Silicone for DP302 to reach the estimate line of life-time.
It shows the life-time becomes longer.